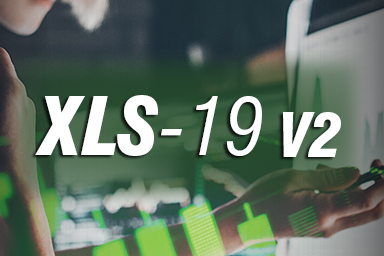 "Our BEST PERFORMING STRATEGY in 2017…"
We released version 1 of XLS-19 in late 2016.
This Strategy has consistently risen to the top of our Strategy List in OmniView as the #1 Performer since release.
Now we have improved it so it's nearly TWICE as profitable!
PLUS, you can auto-trade it using OmniTrader's AutoTrade feature.
…as featured in OmniView
BREAKING NEWS
XLS-19 Just Got a Turbo-boost!
 Announcing XLS-19 Version 2
TWICE as Profitable!
The INCREDIBLE NEW Version 2:
· Averaging
38%

per Year

over 10 years!
· 73% Hit Rate & .91% Profit per Trade
· More Optimal Entries and Less Overnight Exposure
Thanks to research performed by our strategy development team, this new version is one of the most powerful Strategies we have ever released

–
XLS-19 V2 is
the first one to show over 30% Annual Returns since 2007.
XLS-19 works great in difficult markets.
We've highlighted both 2008 and 2015 in the equity curve above. These were difficult years for the U.S. markets but BANNER YEARS for
XLS-19, Version 2.
---
Recent Trades from XLS-19 V2
XLS-19 finds the optimal turning points…
Finds Killer Trades in Up-Trends
AND Superb Trades in Down-Trends
Included in the package:
Jeff Drake's
Winning with XLS-19 V2 Seminar
Learn How to…
· Use OmniTrader's AutoTrade feature to automate this awesome Strategy
· Almost DOUBLE your profits on XLS-19
· Improve any RTM Strategy using techniques applied in XLS-19 V2
And more!
https://forestbergen.com/wp-content/uploads/xls.bmp
256
384
Louis Witte
https://forestbergen.com/wp-content/uploads/forest_logo_trading_acedemy_blauw-e1501772099156-300x101.png
Louis Witte
2017-07-26 22:43:13
2017-07-27 16:11:05
XLS-19 V2