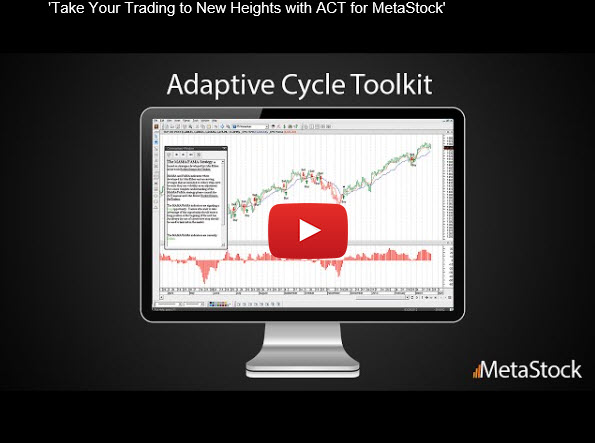 Order Price € 399,-
Powerful, cutting-edge trading signals and strategies based on the digital signal processing research of John Ehlers, author of Rocket Science for Traders and Cybernetic Analysis for Stocks and Futures.
The Adaptive Cycle Toolkit, or ACT, is two completely new sets of indicators and trading tools that harness the power of Digital Signal Processing – the advanced field of mathematics that has revolutionized everything from earthquake detection to the storage of music on CDs!
The result – A powerful new set of techniques that analyze the market in a fundamentally different way to create smooth AND responsive indicators, engineered to reduce whipsaws and catch trades earlier!
ACT was rated "Excellent" by Futures Magazine.
"Employing the principles of modern digital signal processing, the Adaptive Cycle Toolkit for MetaStock provides a superb set of new and exciting tools for technical analysis. The technical support provided by its developers is outstanding in the industry, based on my own experience and a 40 year career in science and engineering" Edgar A. Kraut Ph.D.
ACT is simple and easy-to-use… You don't have to be a mathematician, or even a tech-savvy trader to take advantage of these cutting edge tools.
ACT constantly detects and adapts your indicators to the underlying cycles that exist in the markets. With these new tools you can trade trends, trades cycles, and know when to do which, with full support for Real-Time trading.
ACT also revolutionizes the classic indicators – making them "Adaptive" – opening up a whole new realm of trading potential! Indicators like the moving average, CCI, or RSI, have a "lookback period" that has traditionally been constant, such as 14 bars or 20 bars, a property that makes these indicators static. The new ACT indicators are Adaptive, allowing you to dynamically change with the market as it speeds up, slows down, and changes direction – keeping you in-sync and on the right side of the market!
ACT includes
Over 50 new cutting-edge DLL Functions
Over 50 new MetaStock Indicators
6 New MetaStock Expert Advisors and Trading Systems
A Comprehensive New Manual – over 90 pages of trading theory, examples, etc.
Full Real-Time Data Support
Use right-out-of-the-box, or adapt them to your unique trading style and strategies
Whether you are brand new to using MetaStock, or an experienced MetaStock Programmer — You are going to love this add-on.
ACT Now!